Priests from all over the world who prepare each day  to celebrate mass in the Saint-Peter's Basilica are now putting on their alb under the vigilant eye of a saintly priest who was a member of the Marist Third-Order, now called the Marist Laity.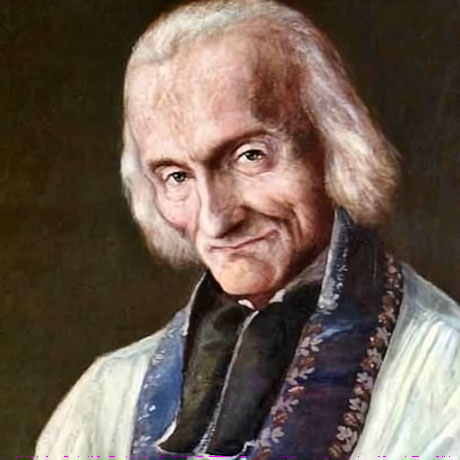 During the last General Audience on November 30th, Pope Benedict XVI blessed an very large portrait of the Frenchman St Jean-Marie Vianney.
A humble, compassionate and prayerful Jean Marie Vianney, also known as The Cure d'Ars, is the patron Saint of Parish Priests.
In 1818 Jean Vianney was appointed parish priest of the parish of a small town called Ars. The town's population was 230.
In the aftermath of the French Revolution and the destruction of the Catholic Church in France, Vianney picked up on the religious ignorance of the local people and began to educate them with his homilies, and by spending considerable hours in the confessional.
In later years, Vianney became known internationally and people traveled long distances to consult him.
By 1855 the number of pilgrims visiting the small town of Ars reached 20,000 a year and during the last ten years of his life, he spent sixteen to eighteen hours a day in the confessional.
So popular was he as a confessor that the bishop forbade him to attend the annual retreats of the diocesan clergy because 'souls awaiting him'.
He was similarly prevented by the bishop from retiring from parish ministry and joining the Fr Colin and the Marists in his final years.
Vianney's recommendations to people that they join the Third Order of Mary, even when it possessed neither official approbation nor definite structure pressured Father Colin into giving the Third-Order its first Director in the person of Father Eymard.
In 1846 John Vianney was himself received into the Third Order on December 8th and in 1854 received faculties to receive other members in his turn.
Vianney's picture came to Rome on the occasion of the Year of the Priest and as a gift from the bishop from the French diocese of Belley-Ars, Bishop Buy Bagnard.
Source: CathNews