A Wellington City Council Wellbeing Group, including Wellintown's Fr Pete Roe, received 'special commendation' last evening at the WorkSafe New Zealand Safeguard awards.
Held at the Sky Convention Centre in Auckland, the special commendation was awarded to the "awesome Wellbeing Group" work with men's mental health.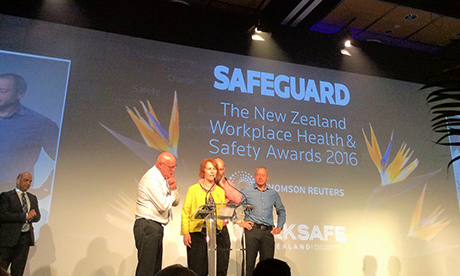 The Safeguard award comes in recognition of a workshop designed to raise awareness of health issues facing men and providing positive strategies dealing with them.
"To get the word out (at the Wellington City Council) about the first workshop, and to grab people's attention, our two facilitators dressed up as 'The Two Ronnies' and were videoed doing the 'Depression News', telling jokes," Trish Knight told Wellplace.nz
"It was so bad it was great," she said.
The Wellbeing group uses humour spread throughout the two-hour session.
"Humour softens the seriousness of the topic; it helps men discuss and share," says Pete Roe.
Trish Knight agrees, "They talk about the heavy stuff but not in a heavy way," she says.
One for the Blokes is designed, developed and delivered by Trish Knight (Manager, Staff Wellness Victoria University Wellington), Peter Roe (Wellintown), Michael Scott (General Manager Wellington City Council), and Phil Becker (Senior Manager Wellington City Council).
Sources