The Marist Fathers and Marist Missionary Sisters at Notre Dame de France are offering young adults between 19 and 35 the possibility of living an experience of community and mission in the heart of London's West End.
Those taking part will share in the life and prayer of the local Marist community.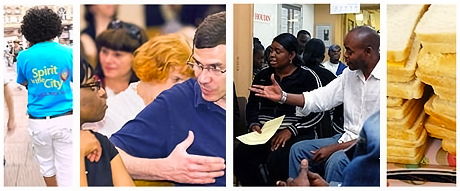 The experience, inspired by Marist values, will run from September 2013 to July-August 2014, and it is possible to combine it with study or work in London.
This is a richly varied inner-city ministry opportunity based at Leicester Place, in the very heart of London.
If you are interested in this opportunity, please click here to get in touch.
The Marist mission in London is a broad mission encompassing those who live in the central city and to London's many visitors.
As part of its outreach it offers a welcoming service, a sandwich service for the homeless and a Refugee Centre, welcoming all asylum-seekers and refugees regardless of age, gender, ethnic origin or faith.
The mission at the London parish, Notre Dame de France, also tries to make the most of its inner-city location as every year millions of people stream through London's entertainment district in the West End, for example, the weekend of 9-10 June saw the annual "Spirit in the City Festival" taking place and Leicester Square Gardens provided the ideal setting for the largest Catholic evangelisation festival in the city.