In response to an invitation from the Marist Fathers of the province of Europe, the SMSM sisters are opening a small community in London, where they will work together with the Marist Fathers' community of Notre Dame de France, Leicester Square, London.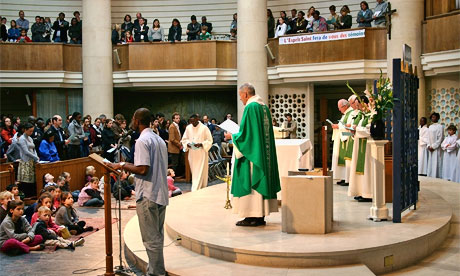 Notre Dame de France lies in the heart of London and is the Catholic francophone parish of London. As well as the pastoral responsibility for for those who speak French, the Marist mission also encompasses those who live in the central city and to London's many visitors.
As part of its outreach it offers a welcoming service, a sandwich service for the homeless and a Refugee Centre, welcoming all asylum-seekers and refugees regardless of age, gender, ethnic origin or faith.
The mission at Notre Dame de France also tries to make the most of its inner-city location as every year millions of people stream through London's entertainment district in the West End, for example, the weekend of 9-10 June saw the annual "Spirit in the City Festival" taking place and Leicester Square Gardens provided the ideal setting for the largest Catholic evangelisation festival in the city.
With a live stage program, music and drama, workshops, Eucharistic adoration and confessions, the festival brought together over sixty communities and movements to pray, celebrate and evangelise in a variety of ways in the churches and on the streets.
The event created opportunities to engage in contemporary ways with people who otherwise wouldn't have any contact with church.
Related: Marist Fathers' Notre Dame de France