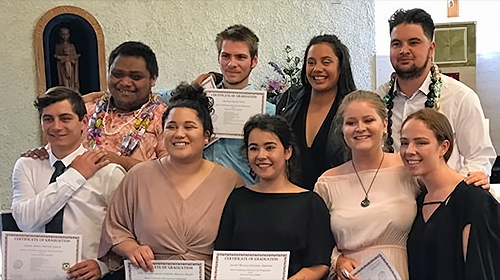 On Saturday the 26th of November 2016, the Marist – Challenge 2000 gap year students graduated from their course, and with a certificate in youth work.
The nine students and their friends and whanau gathered in the chapel of St Pat's College Wellington, to celebrate with a liturgy and presentation.
Heartfelt and emotional eloquent and insightful speeches by the graduating students followed.
Graduands spoke of their significant experiences, on placement and retreat, and the inner journey by which they have come to believe more deeply, not only in God, but also in themselves and the world around them.
Director of Challenge 2000, Steve O'Connor, responded with a vote of confidence and thanks, reflecting on Challenge's goal to help love and support young people into their best selves, and the fact that these gap graduates were testimony to the significance and success of this work.
Fr Tim Duckworth spoke on behalf of the Society of Mary, accepting the thanks of the students, and noted the completion of another challenging yet successful and happy formation programme.
The Marist / Challenge 2000 Gap Year is a one year holistic formation programme involving NZQA youth work training, work placements, experiences, and local and possibly international travel.
Based at Pa Maria spirituality centre, the programme is managed by Challenge 2000 founder, Kitty McKinley.
The Marist / Challenge 2000 Gap Year offers the chance to develop the social, spiritual, intellectual, employment, well-being and physical elements that are required for a positive, successful and balanced life.
Participants can also access the extras that will help on their life journey: driver's licence, first aid certificate and technology training.
Already 63 young people from New Zealand and overseas have graduated from the programme.
Source: CathNews