The Society of Mary and Challenge 2000 are inviting young people to apply to take part in the 2011 Gap Year programme.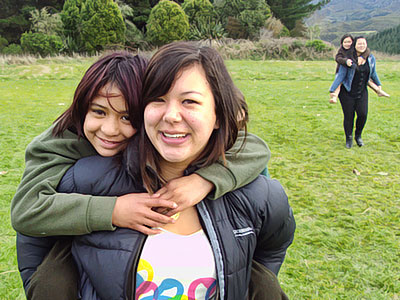 If you are a young person, or know a young person who might want to:
develop leadership skills
find direction in their lives
develop a range of life skills
take part in a holistic development programme
to be challenged to be "their" best
the Marist/Challenge 2000 Gap Year programme might be of interest.
The Gap Year programme is designed for those wishing to gain real life experience before choosing their future careers and is also suitable for a young person who wants to take "time out" from university or work.
During the Gap Year programme the young people work alongside each other, and also work at Challenge 2000, Marist agencies, Colleges or other community organisations and groups.
If you would like to know more, please visit the: Gap Year resource at www.sm.org.nz, call Challenge 2000, 04 477 6827 or email challenge2000@xtra.co.nz
Catherine Neal comments
It has been such a huge year of personal growth and learning with many scary changes. I am amazed at the sheer amount of things we have been involved in and learnt throughout this Gap Year journey. 99% of them I don't think I would have ever taken part in otherwise. Through the activities we have done and the people I have met I have gained a much greater understanding of myself and the gifts I have to share with others. I have also gained a huge insight into the world around me.
I feel very lucky to have had such an amazing group of friends on the Gap Year and a huge support network that Challenge 2000 and the Marists provide for us. I could not have gone this far without them and I know I have made some good friends for life. – Catherine Neal
Guy Proops comments
I couldn't have asked for much more from my Gap Year placement than I got. It was a rewarding and eye opening experience. Through my time at St Pat's I felt my eyes were opened to some of the injustices that exist and the hardships that some people endure. However the Gap year has completely shaken up my world.
The foundation stone laid while at College. The St Pats foundation stone  reads "Hic lapis mole parvus spe grandis". "This stone small in size yet great in hope". For me this is what the Gap year is about – a place small in size yet it offers more hope than any other place I know. – Guy Proops