In 2008, Challenge 2000 entered into a partnership with the Society of Mary to provide a programme that gave young people the chance to serve and help those around them while discerning which path they were called to take in terms of career and lifestyle.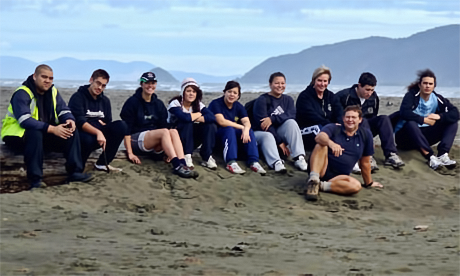 This "gap year" programme was aimed at school leavers, or those who had begun their university education or work uncertain as to what they really wanted to study or be.
Since 2009, 25 young people have participated in the programme. They have come from all around New Zealand — and Atlanta in the United States.
The programme focuses on personal development, gaining NZQA youth work qualifications, exploring different career options and gaining experience in life, study, service and work situations. There has also been an emphasis on gaining extras that give a head start, such as first-aid certificates, driver's licence, language, presentation skills and technology training.
Part of the programme is a one month pastoral service component, some of which have been overseas.
The 25 graduates have moved on to a wide range of career and lifestyle options including the police, nursing, university, youth and social work, the seminary, other tertiary training institutions, performing arts and the army.
Jason Ebinger, from Atlanta, said: "I have done so much and been involved in so many things that I know will shape my life in years to come. I cannot even begin to express all that I have learned.
"I have been challenged and encouraged all through my time here, and everything that I have done has led to my growth."
Therese Kyne, a St Mary's, Wellington, old girl who has gone on to study at Victoria University and work part-time for Challenge 2000, said: "The gap year has opened my eyes to such a wide range of different things and made me aware of the great inequality that exists in New Zealand.
"I've loved working alongside such a great community at Challenge, and I've had the pleasure of meeting so many great young people. I've learnt that caring for people in the simplest of ways is what is most important.
"The gap year has given me so many opportunities to gain skills that will become so important for my future. I have come away from the programme knowing what I am capable of. I now feel a sense of responsibility to respond to the Gospel call."
Source: NZ Catholic