Kitty McKinley, has been awarded a NMZM in the New Year's Honours, announced today.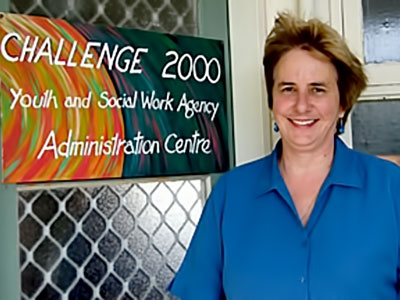 Well known to many Marists both in New Zealand but also internationally, Kitty, founded Challenge 2000 in 1988.
Predominately serving the Wellington region, Kitty established Challenge 2000 as an innovative, passionate youth development, community and family agency.
Challenge now works with over 2,900 young people in a holistic and challenging way that empowers young people to develop their strengths, enhance their well-being and to make significant and positive lifestyle choices.
Kitty said, "It's wonderful to get the honour, but it's also been a wonderful honour to share in the real lives of so many people for the past 22 years."
"Challenge 2000 is an agency/whanau that I am proud to have started and proud to lead. We punch far above our weight and our successes far outweigh our failures."
Asked why she has committed so much of her life to Challenge. "It's because of my faith, and a belief that service is a really important value", Kitty said.
Challenge's work is often goes unseen and un-noticed, but praise for the organisation and what it does, has come from local MP, Peter Dunne, who recommends Challenge as an organisation that makes a huge difference in the local community, and one that provides literally thousands of young people with many positive opportunities.
The Principal Youth Court Judge, Andrew Beacroft is similarly affirming. "In my role as Principal Youth Court Judge, I sit regularly in the Porirua Youth Court. I have regularly met Challenge 2000 who have been supporting young offenders to complete intervention and rehabilitative programmes. Without fail, I have found Challenge 2000 works to be professional, efficient, timely and reliable. They contribute greatly to the proper functioning of the Court. More importantly however the Challenge 2000 organisation can be trusted to deliver effective high quality interventions for young offenders."
Individually, many Marist priests and brothers have been involved with Challenge in one way or another. As part of their pastoral experience, several Marist seminary students, from New Zealand, the Pacific and Asia have also contributed to and benefitted from working at Challenge.
The New Zealand province works in partnership with Challenge 2000 in the Marist-Challenge Gap year programme and the Marist-Challenge Youth house.
In the Christmas newsletter, Kitty McKinley announced both her retirement from Challenge 2000 in Feburary 2011, and the appointment of Bridget Roche as her successor.