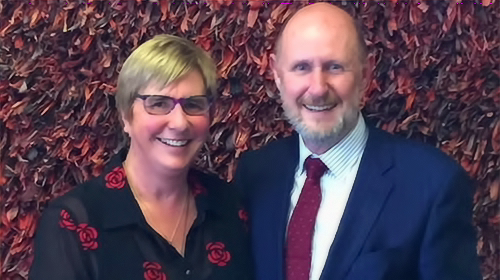 The "real heroes" of the judicial system are the likes of Kitty McKinley says newly appointed District Court judge, Noel Sainsbury.
Judge Sainsbury said Kitty McKinley is one of those people who take significant steps to help people from having to return to the system.
He thanked her for being at the ceremony and also took the opportunity to single out the Challenge 2000 and WellStop agencies for the work they do in this regard.
Judge Sainsbury made the comments in the course of his appointment address to the bench, the Attorney General; Hon Christopher Finlayson, colleagues, family, friends and the public gallery.
Kitty McKinley is founder of Challenge 2000 and leader of the Marist – Challenge Gap Year.
In a statement on its website Challenge 2000 congratulated the judge on his appointment however regretted the loss of a generous and competent advocate who often represented young people free-of-charge.
"We acknowledge the significant asset that Judge Sainsbury will be to the bench, to the parties whose matters he will be adjudicating, and to the wider community as a committed and compassionate arbiter of justice," the statement says.
Calling Judge Sainsbury's appointment "welcome news", Challenge 2000 says it reflects the judge's passion for people and social justice.
Judge Sainsbury said he saw his appointment to the bench in Manukau as a further expression of his career in law as a vocation.
Source: Challenge 2000