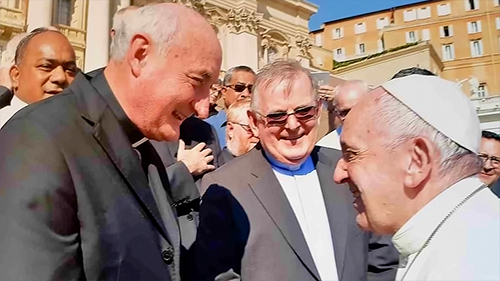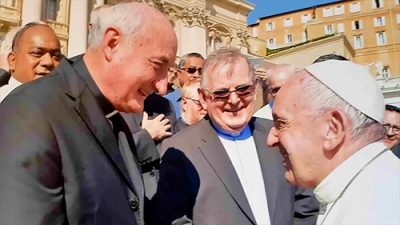 The Marist General Chapter delegates attended Mass and an audience with Pope Francis on October 5.
At the end of Mass the Pope addressed a special greeting to the 'Chapter of the Society of Mary', and he encouraged Marists to "promote our charism in a spirit of service and fidelity to the Church".
At the end of the audienc, the Chapter with its secretaries and the representatives of Marist Laity gathered on the steps of the sagrata where they were joined by the Pope.
Former superior general Fr John Hannan introduced the new superior general, Fr John Larsen to him.
Pope Francis asked Fr Larsen where he intended appointing his predecessor.
The General Chapter also elected Frs John Harhager (USA), Ben McKenna (Oceania), Juan Carlos Piña (Mexico) and Paul Walsh (Europe) were elected as Fr John Larsen's (Asia) general councillors. Fr Harhager is vicar general.