Mission have featured prominently in several recent wine competitions, with one of its wines winning both "Pure Gold" and "Blue Gold" medals.
The Pure Gold medal was awarded in the Air New Zealand Wine Competition to Mission's Reserve 2007 Syrah. This "Gold" category was introduced in 2007 and is awarded to those wines that are considered to have been produced in an environmentally "sustainable" way. Only seven "Pure Gold" medals were awarded.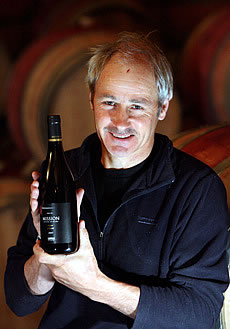 The Reserve Syrah 2007 has also gone on to win a "Blue-Gold" medal in the prestigious Sydney International Wine Competition. Wines that are "Blue-Gold" are "Judged with food" and deemed to be in the top 100 wines in this popular competition and carry the distinction of being placed amongst the "highest pointed" 5% of wines from the thirteen Style Categories of the Competition.
Other Gold medals have also won by the Mission Jewelstone Cabernet Sauvignon Cabernet Franc Petit Verdot 2007 (Air New Zealand), Mission Vineyard Selection Chardonnay 2007 (New Zealand International Wine Competition), and the Mission 2007 Reserve Chardonnay (Liquorland Top 100).
It's been great year for Mission, capped off by highly respected wine writer, Michael Cooper, awarding the Mission Reserve 2007 Syrah as his "Best Buy".
Mission Estate winemaker Paul Mooney said it was the first time the winery had been given the "unique little accolade" and it was a real achievement.
Usually the award went to bigger companies with a large range of highly consistent wine, he said, and being a smaller winery with a limited product range made the recognition sweeter.
Our congratulations to Paul, Peter Holley and all the team at Mission.
Air New Zealand Wine Show
Mission Estate Reserve Syrah 2007 (Pure Gold)
Mission Estate Jewelstone Cabernet Sauvignon Cabernet Franc Petit Verdot 2007 (Gold)
Mission Estate Chardonnay 2007 (Silver)
Mission Estate Merlot 2007 (Silver)
Mission Estate Reserve Merlot 2007 (Pure Bronze)
Mission Estate Cabernet Merlot 2007 (Bronze)
Mission Estate Syrah 2007 (Bronze)
Sydney International Wine Show
Mission Reserve Syrah 2007 (Blue-Gold)
Mission Reserve Chardonnay 2007 (Top 100)
Mission Jewelstone Syrah 2007 (Top 100)
Liquorland Top 100
Mission Estate Reserve Chardonnay 2007 (Gold)
New Zealand International Wine Show
Mission Vineyard Selection Chardonnay 2007 (Gold)
Mission Reserve Merlot 2007 (Silver)
Mission Jewelstone Chardonnay 2006 (Bronze)
The New World Wine Awards
Mission Estate Syrah 2007 (Silver)
Mission Estate Riesling 2007 (Bronze)
Mission Estate Chardonnay 2007 (Bronze)
Mission Estate Ice Wine 2007 (Bronze)
Mission Estate Cabernet Merlot 2007 (Bronze)