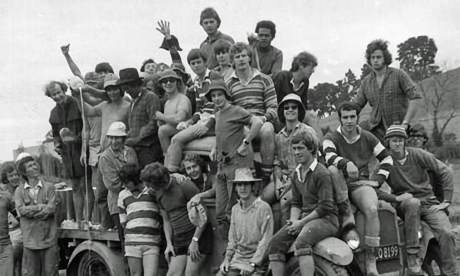 Marist seminarians from the 1970's onwards are being invited to a reunion with a purpose; to see where their mission is taking them now.
"Our years at Mount St Mary's were some of the most memorable of our lives. Let's re-live the memories, re-invogorate the friendship and share where our Mission is taking us now", say the organising committee in their invitation.
The committee, Gerry Forde, Shaun Davison, Dennis Farrelly, Nick Pendergast, Mike Fitzsimmons and Chris St Clair have put together a programme that includes being jolted awake with the customary 5:55am seminary bell, followed 30 minutes later by morning prayer.
The provincial of the Society of Mary, Fr David Kennerley will welcome participants and bless the occasion.
Other key moments of the weekend are a discussion of a "Marist Alumni proposal" and the laying a plaque for old boys who have died.
The weekend also has its lighter moments with a tour of the new cellars, a "high tea" in the Mission Estate's award winning former chapel restaurant, singing the top ten hits from the hymnal and the opportunity to chat over a few wines late into the night.
The reunion at the once Greenmeadows seminary, now historic Mission Estate Winery, follows several successful catch-ups around the country to mark the launch of the book On a Mission, edited by Shaun Davison.
The reunion is for seminarians from 1970 onwards, and takes place on the weekend of 10 – 12 April, 2015.
Places are limited to 180, including partners.
Those interested are welcome to contact Gerry Forde or visit Facebook.
Sources