The construction of new Marist seminary in Rome is nearly complete.
The seminary, on the corner of Via Della Marsica and Via Livorno is on the 4th floor of the Marist school in Rome. It occupies the former community area, the Marist Community moving down one floor.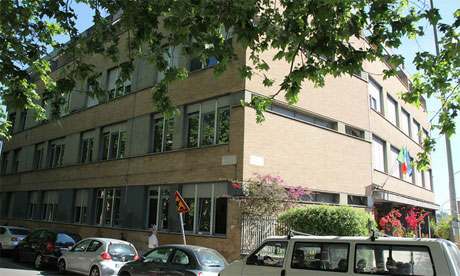 Alterations to the 4th floor of the 'Via Livorno' property are well under way. Click here to view an album of photos of the new international Marist seminary. These photos were taken in May 2012, and show the seminary as a work in progress.
The seminary will accommodate up to 20 seminarians and three members of the formation team.
The question of how to give the Society of Mary seminarians the quality theological training needed today, and how the Marist Fathers' best use its human resources to help these men throughout their seminary formation, are two prominent questions which have been on the minds of successive general administrations.
Addressing these and other questions the Society broadly decided on a three-stage approach to the formation of seminarians:
formation in philosophy – to take place in the local province or district
novitiate
formation in theology – to take place in Rome.
In December 2011, the Superior General of the Society of Mary, Fr John Hannan, announced that Marist seminarians, from those provinces and districts involved in the international formation programme, who are studying theology will live at the Via Livorno property.
View Marist Seminary Rome, as it was in May 2012.