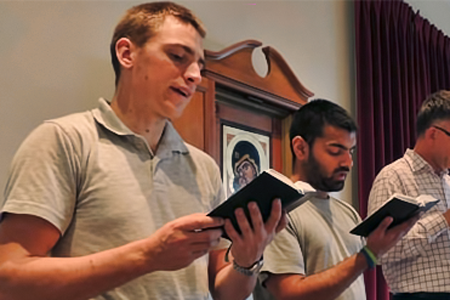 Nine young men have taken part in vocation discernment weekends at Marist Seminary this year.
The opportunity to see Marist life up close proved more popular than expected, says Seminary rector, Fr Peter McAfee.
In January, Marist Seminary ran a discernment weekend. It was a live-in experience for young men considering a Marist vocation and due to the surprising level of interest the event was repeated 25-27 April.
The discernment weekends run from Friday to Sunday.
As part of the introduction to Marist life, the participants experienced seminary life.
There was a mix of community and personal prayer, class, a chance to speak with a priest or seminarian, social time, personal time, Mass and meals together.
The team, Frs Matt Crawford and Peter McAfee and seminarians, Phil Bennenbroek, Brendan Jenke and Hayden Powick agreed that the event was more positive than they could have expected.
Comments from the participants were also positive; they were struck by how 'free' or un-worried the Marists were.
The next discernment weekend is from 7:30pm August 1- 1:30pm 3 August 2014. Those interested are welcome to contact Fr Peter McAfee.