The province has released its new-look website.
There's an element of familiarity with the new look, the same metaphor applies:
What it means to be Marist
How we express our spirituality through lived reality and mission, both in New Zealand and internationally
It still asks the question if people would like to join us.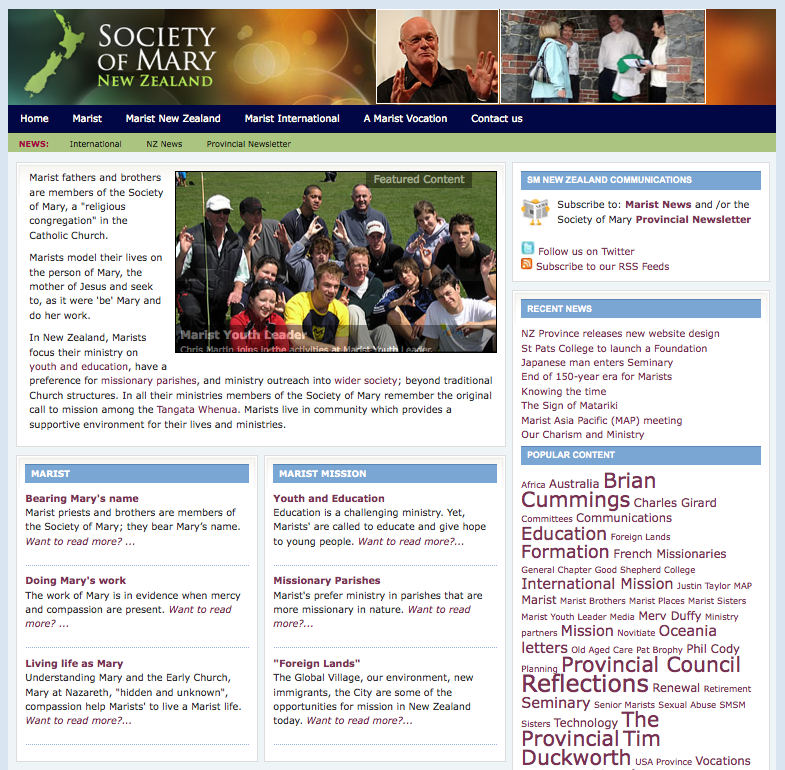 What's changed then? The most obvious is the "look and feel", but looking a little closer hopefully the site gives testimony to the Mission Focus outlined at our last Chapter, namely there is more of a statement about what we stand for and what we do: Youth and Education, Missionary Parishes, "Foreign Lands".
The "smart stuff" is really the "back end", the technology going on behind the scenes. Some of that "smart stuff" is seen by our ability to:
seamlessly share our content with any other Marist website with the ability to incorporate RSS feeds
seamlessly receive content from any other Marist website with the ability to publish RSS feeds e.g. the Marist Messenger
people can send articles to their friends, by email and direct from the web page
make the material "printer-friendly"
enable people to increase or decrease the font size of the articles
access the material by clicking on "Tags" (categories)
share our spirituality (only a glimpse at present, another website is in development)
optional iPhone-friendly viewing
publish stories automatically to Twitter
enable visitors to "share" material on the Social Network of their choice
enable people to discus material they've seen on the site
update the site with a simple email message or via a small application on an iPhone
Why make the change?
The truth is it was probably overdue, in essence while we had something that was good, it was almost technologically obsolete. More importantly however have been a significant event and a significant decision. The significant event was the Provincial Chapter of last year and the need to put our Mission Focus in front of ourselves and others. The significant decision is the major change the Provincial, Brian Cummings took, to share the province's Newsletter with anyone who wants to receive it.
We are now also able to send our newsletter and our occasional Marist news to those who want to receive them. Interestingly, before the email notification went out, the first person to actually sign up was a former seminarian.
Over a period of some months, there have been numerous people both in New Zealand and Marists from overseas involved in this make-over. People have kindly provided text, made suggestions, prompted leads to get material and supplied lots of images. It's dangerous to list names, I think, least I hope I have always said thanks to you, but this is an opportunity to repeat my thanks for your generosity and willingness to be involved. It's been quite a combined effort.
– John Murphy