When I was first associated with the Newsletter which must be at least ten years ago now I was often surprised how much news there was to put into each edition.  In those days news consisted of anything that had happened in the province in the last month.  Pieces included were sometimes as short as a sentence or two—something that might be as simple as Br X having completed his degree or Fr Y who had just returned from Samoa had given retreats to the SMSM sisters and our men there or perhaps even something about a book published or a new development at Otaki or Akaroa.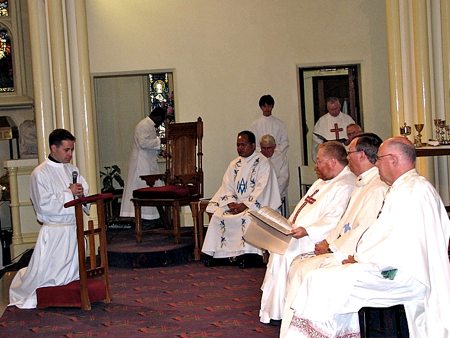 Nowadays things happen much more immediately—whilst you might not cherish the Friday Fax with the same reverence that Charlie Devonport reckoned that confreres loved the Newsletter—at least it has become the source of sharing for most  information in the province. Occasionally when there is something of a little more weight the Provincial might write a letter to you himself. As well,  individual confreres have now taken to publishing their own information—it is not unusual to hear from someone that Father or Brother Alpha went to hospital in recent months.  Then when someone cuts loose with their camera and takes a couple of hundred shots of the latest Marist event—they publish them online and you've all seen them well before I get to the newsletter and I wonder—what's the point in me republishing them there.
That's the nature of modern communication—everyone becomes their own editor—publisher—cameraman—promoter.  Young people today publish themselves and their lives through all sorts of internet technologies like Facebook—which is a sort of online diary or a Blog (short for Weblog) that covers pretty much the same topic material usually with more text.
One of the great beauties of the technology is that their parents don't generally share in the same space—so when a young person has a particularly "hair-raising" night out they can put up their photos on their facebook web page and be relatively confident that their parents have no idea where to look or how to find their child's facebook page.
It's interesting therefore that the communication works at two levels—there are the haves and the have nots. So for young people that have the know-how they can all access each others Facebook web pages and laugh at the antics of their friends—and even choose who their friends are—and exclude everyone else.  Mum and Dad might just as easily get excluded and become the have-nots.
That's the same when you publish your pictures and stories on the internet.  If I publish them again in the newsletter—then I sit here thinking—half the province has seen this stuff before and will say—"BORING! – I thought it was a newsletter,"  and the other half of the province will say—"Thanks—I wasn't able to go—now I can see what happened."
When you share your information with a group of the province who has a technology another group of the province misses out.  For that reason even though 75% of the province receive the FF by email every week we still fax it to every house and individual who wants it.
As the editor of the newsletter I have no idea what to do—and I'm not berating the people who put their stuff online.  Now almost the entire  newsletter gets put online and I wonder why I bother at all printing them and getting Lesley to fold them and post them to people—but some people are not Internet capabable either because of where they live, the technology they have at their hands or their computer skills. And there are confreres who receive the newsletter overseas who really enjoy seeing what you see published here.
In the end I guess it is a compromise. People say this is the official record—so you find things like the shifts published here, and you'll also see photos of Matt Crawford's Final Profession Ceremony.
– Tim Duckworth