As New Zealand communities around the world mourn the twenty-nine Pike River miners, Brian O'Connell, currently studying at All Hallows, Ireland, responded to a request, and preached a sermon during Choral Evensong at Christchurch Cathedral, Dublin.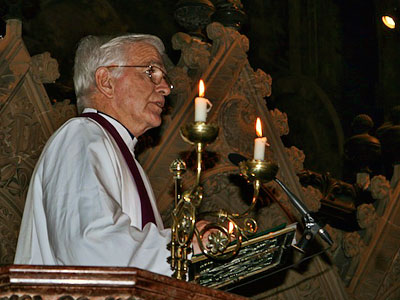 Brian, whose Irish ancestors sought gold on New Zealand's West Coast, paralleled the physical terrain of West Coast with the people who live and work there – adventurous, rugged and individualistic. He said the Pike River scheme was a new coal mine and the rock covering the coal as being four times harder that concrete.
Working this mine was tough work, dangerous work, and, "In the Christian view of things, our God's care of us does not extend suspending the laws of nature to protect us from their effects." He said.
Brian's reflection echoed hope.
"In times of great tragedy we Christians are driven back to the bedrock truths of our faith, the overarching care of God for our world and the people who live in it, and in particular the Resurrection of Christ from the dead, carrying with it the promise of our sharing in this Risen life."
Brian joined with other New Zealanders thinking of and praying for these men and offered comfort to the spouses, families, friends and relations of these courageous men.
"When Jesus rose from the dead the searchers could find no body. The empty tomb was a sign that he had risen."
Full text
Address at Evensong Service for miners who died in the Pike River disaster (PDF format)