After a search of nearly four decades two historical Marist paintings have been returned to Sydney.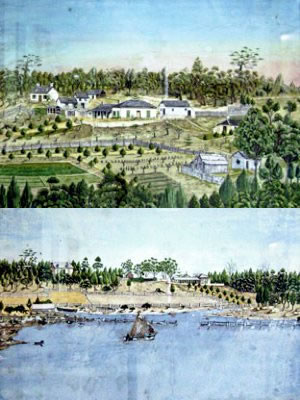 The paintings depict the earliest Marist buildings near Tarban Creek, Hunters Hill, which served as a base for the newly-established missions of the Society of Mary in the south-west Pacific. They were housed variously in Rome and at La Neyliere, France, where they were discovered in a basement after going missing in the 1970's.
Fr Michael Mullins SM recently returned from Rome bringing with him the paintings dating from 1854 and commissioned by the then-procurator of the Marist Missions of the Pacific, Fr Rocher. 'It's the end of a thirty-five year saga', says Fr Michael who has been searching for the lost paintings since 1974.
They are now framed and hanging in the provincial offices, Hunters Hill, awaiting a more permanent and suitable home.
Source: Australian Provincial Newsletter