Bougainville Marist, John Bosco Baremes SM, was ordained bishop of Port Vila, Vanuatu, in a ceremony in Parliament Park on Feb 14. Bishops from all over the Pacific were joined by Apostolic Nuncio for the Pacific, Archbishop Charles Balvo.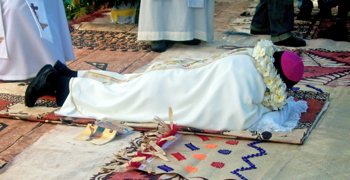 Ordaining prelates were Archbishop Michel Calvet (Noumea), Bishop Ghislain de Rasilly SM (Wallis-Futuna) and Bishop Soane Patiti Mafi (Tonga).
Fr. Jean (John) Bosco Baremes, SM was born in 1960 in Han, Carteret Islands, in the Province of North Solomon in PNG. After primary school on the Carterets and secondary school at St Joseph's, Rigu, Bougainville, he entered the minor seminary of Rabaul then joined the Marist Fathers.
Following novitiate at Tutu, Taveuni, Fiji, John Bosco took perpetual vows in 1981 studying philosophy and theology at Bomana, Port Moresby, PNG, before finishing studies at Pacific Regional Seminary, Suva.
He was ordained priest in 1987 on Carteret Island. then worked in Pouébo, New Caledonia. After this he studied pastoral counseling at Loyola College, Baltimore, USA, then became director of the Bougainville Trauma Counseling Institute in the critical post-crisis years.
Fr John Bosco served as councillor of the Oceania Province of the Marist Fathers for six years before his appointment to Port Vila.
The Diocese of Port-Vila, erected in 1966, is suffragan of the Archdiocese of Noumea, with an area of 11,870 square kilometers, a population of 230,000 inhabitants, of whom 32,500 are Catholics. It has 23 parishes, 24 priests (15 diocesan and 9 religious), 33 religious brothers, 8 seminarians, 1 permanent deacon and 53 religious sisters.
Source: Marist Fathers Australia