One – In March 2003, an article in the Eastern Courier, a local newspaper reported that A secondary school, catering for up to 1000 students, is being built for Howick and Pakuranga's Catholic community. The article also said that The Church has long term plans to build a primary school and a parish on the site.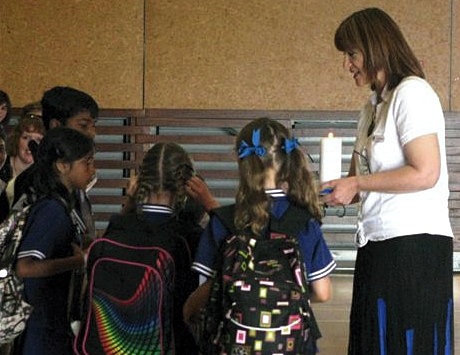 The secondary school, named Sancta Maria College, opened in late-January 2004 with a roll of 315 students. This year, its roll is 950 students and it plans to ask the Minister of Education for an increase in its maximum roll to 1200 students. Sancta Maria College is named after the schooner used by Bishop Pompallier for his missionary work around New Zealand.
Two –  The primary school, Sancta Maria Catholic Primary School—an integrated school, for boys and girls from the Flat Bush area, opened its doors on 5 February this year. It takes its name directly from Mary, Mother of God, and its charism is truly Marist, through its passionate and committed Board of Trustees, through its highly skilled and visionary teaching and administration staff, and through the local Catholic Community – St Luke's Catholic Community, Flat Bush. When they all arrive, after turning five, the primary school will have a roll of 208 children this year. Sancta Maria Primary will be opened officially on Friday 7 May this year.
Three – A new parish community and a new parish church are both being sustained by the virtue of hope. Our St Luke's Community, was told by Bishop Patrick last year that a parish is not normally established these days until a community has its own church! But our hopes remain alive because the bishop had earlier indicated, that the Diocese is willing to assist St Luke's to build a parish church.
The Bishop's Property Committee, has imposed a preliminary condition. Our Community must raise one million dollars before the Diocese will assist with designing and building a parish church. This is a great challenge for us. Ninety per cent of our members are immigrants seeking to establish new lives for themselves and their families. They are not wealthy, and have heavy financial commitments. They are as generous as they are able to be and we are saving as much as we can so that we can build a parish church. At the same time, we are very aware that we cannot raise the one million dollars on our own. But, we live with hope and we will get there. One day, it will be three out of three. – Ezio Blasoni