Once again, as part of our vocations promotion strategy, a Marist Pilgrimage was held. This year we expected to have five men but this number was reduced when two dropped out because of work commitments.
What the group lack numerically, it made up in enthusiasm.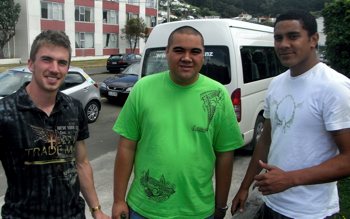 The hikoi followed the hallowed path from Auckland to Russell and the Hokianga where we enjoyed the hospitality of the outgoing community. These men deserve our thanks, given that they delayed shifts and holidays in order to provide a warm welcome and hot kai.
The Seminary was next on the itinerary, where the pilgrims also visited Good Shepherd College and Logos. Two nights were spent at Kuratau, at Kitty and Mark McKinley's "bach". From there the pilgrims celebrated Mass at Little Waihi and enjoyed a rafting challenge on the Tongariro.
The hikoi visited the Mission, but was unable to stay because of the concert. So we stayed the night at Kopua where Fr John Kelly OCSO spoke to us on the monastic vocation. The men then had an evening and morning of reflection. We departed after Mass for Palmerston North, where the community welcomed us for lunch. Pukekaraka was the next stop for a powhiri and Mass. Later we climbed Pukekaraka and reflected on the men buried there. The hikoi neared its end with a visit to St Mary of the Angels church and Karori cemetery. A hospitable group of Marists led by the Kemp St community put on a barbecue for the men.
While the group was small it seemed to make up for that by the commitment and enthusiasm of the men who made the pilgrimage. Both Frank Bird and I were impressed by their faith and practice. One of the men has discerned he will prepare for the diocesan seminary, another is already in accompaniment, and the last has asked to discern a Marist vocation.
Our thanks for all those individuals and communities who welcomed the hikoi and supported this work of the Province. We have presently three men in accompaniment. Please pray for the Lord of the harvest to send labourers into his harvest.
– Pat Brophy