Nine months after the killing of Peter Chanel SM on the island of Futuna, Fr Phillipe Viard SM (later first bishop of Wellington) collected his remains. He transported them to Kororareka (now Russell) in the Bay of Islands. There they remained for seven years before being repatriated to the headquarters of the Society in Lyon, France. The relics were returned to Futuna in 1977.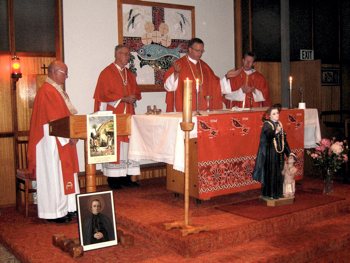 Fifty years ago, in 1960, the national shrine of St Peter Chanel was erected in Russell. To mark the anniversary of the building of the shrine a commemorative Mass was celebrated there on the feast day, April 28.
A group of parishoners from the Mid-north Pastoral Area, which includes the Bay of Islands, gathered to celebrate the event with the local Marist Community. Pat Brophy was principal celebrant and Kerry Prendeville preached the homily. Frank Bird, assisted by Pius Keene and youth from Kerikeri animated the liturgy. Michael O'Donnell came up from Whangarei and gave a short talk on his visit to the island of Futuna in 2003.
A feature of the Mass was the presence of Mr Jack Guy, the builder of the shrine. Mr Guy recalled some of the difficulties in building in such a remote area. Some of the material for the construction was brought from Auckland by barge and the rest came over difficult shingle roads. The total cost for the construction of the shrine was £8172 pounds!
After Mass everyone enjoyed special St Peter Chanel biscuits, complete with picture of the Saint in the icing!
Related Links: www.peterchanel.info