The St Peter Chanel Novena for Marist Vocations begins on April 19 and leads in to St Peter Chanel's anniversary.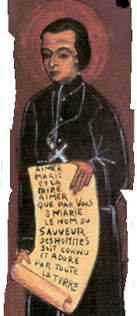 Peter Chanel, the first saint and martyr of the Society is said to have said, that he'd be more use praying for the Society in heaven than he was here on earth. Our Novena for vocations then stems from this saying and Peter's interest in the growth of the Society in Oceania and his keenness for others to join him.
The custom inside the Society, including among the Marist Sisters goes back some years and we would welcome you to join us in our nine days of prayer.
Download in PDF booklet form, the Novena of prayer for vocations, April 19 – April 27.
Significant facts about Peter Chanel
In 1831, at 28, with his bishop's agreement he joined the small group of diocesan priests who had hopes of starting a Society of Mary. He was one of the three representatives who went to Rome to ask the Pope's approval for their planned Society of Mary.
For three and a half years on Futuna, Chanel and Marie-Nizier battled with language difficulties, strange customs and food, sickness, malnutrition, loneliness. Hardest to bear was the seeming lack of success in adult conversions. But they persevered, living and preaching the Gospel, in spite of the king's tolerance wearing thin.
The eventual conversion of the king's son proved to be Peter's death warrant. The king kept control of his people largely through their worship of evil spirits. His son's becoming a Christian undermined this power, so Peter had to be stopped. With the king's approval a small group of his tribal leaders clubbed Peter to death.
Learn more about St Peter Chanel by visiting a resource the Society of Mary has shared with FaithCentral, an online resource for Religious Educators.