Work has begun on strengthen and refurbishing the presbytery at St Mary of the Angels, Wellington. The accommodation on levels two and three of the building will be completely gutted and refitted for a community of five Marists. These new rooms will have provision for a bedroom, en-suite facilites and a study. There will also be two visitor rooms.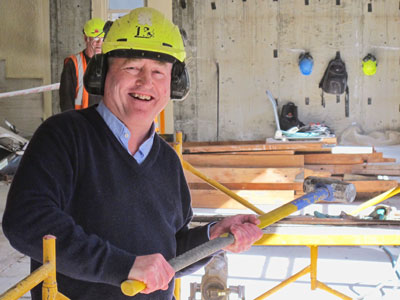 This is the first of a planned 'three stage building programme' which will also incorporate the upgrading of the parish offices and a complete upgrading and extension of the parish hall on the ground floor.
The presbytery was built in the early 1960's and no longer complies with the current Wellington City Council earthquake code.  Hollow block walls separating each bedroom were considered very unsafe and would have imploded in a moderate earthquake. Levels one and two are being completly gutted and the walls strengthening using 47 carbon fibre ties embedded in the concrete which will add considerable strength to the reinforced concrete walls.
The work is being undertaken by the parish in conjunction with the Society of Mary. An agreement with the Society of Mary will allow Marists who are not involved in the Parish Ministry to be accommodated in the building for the next 20 years.
The upgrade is being carried out by L T McGuinness Ltd, who completed the upgrade of the Church in the mid 1990's.
Located in the centre of Wellington, St Mary of the Angels is a popular inner-city Church and a popular place to stay for New Zealand Marists and international visitors. Work will be finished by 31 January 2011.