The Marist Parish Community at St Mary's Manchester Street is dispersed throughout Christchurch, as earlier today the civil authorities gave the presbytery a Yellow Card.
The "Yellow Card" means "do not enter except on essential business".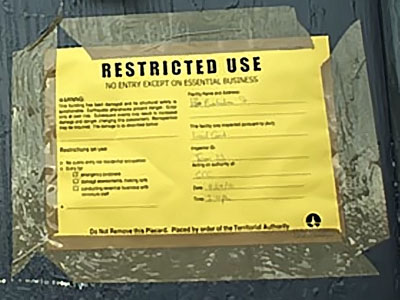 The 105 year old building developed several cracks during the 7.1 magnitude earthquake on Saturday and there was some uncertainty about whether they should continue to occupy the building. Gerry Whiteford, the Marist community superior said, "The decision to yellow card the presbytery was a relief. It gives us peace of mind".
With more than ninety aftershocks recorded between a magnitude of 3.7 and 5.4, cracks in the plaster work have developed further inside the building. There will be further investigations to determine if these are surface cracks or the brick work underneath is also damaged.
The long term future of the presbytery is uncertain, however all three chimneys are due for demolition on Wednesday.
At this point it's uncertain where the parish team will operate from.
Fortunately the more modern parish church, built in the late 1950's, is fine to use, as is the primary school. The school principal reported with surprise on Sunday morning that all the students' chairs were still up on their desks!
Elsewhere in the parish, people are supporting each other in neighbourly fashion. Parish staff report that people are coming to the reality that this massive event is happening in their city, they are part of it and it's not happening somewhere else and showed on television. "Once the city stops shaking, it might start shaking in other ways" Gerry Whiteford said.
More on the Christchurch Earthquake
Churchgoers celebrate Christchurch Miracle (Video)
Everyones Flickr Photos
A Visualisation of the earthquakes using Google Earth