All the Marists in Christchurch have reported they are safe and well after this morning's 7.1 earthquake. Damage to community and church property seems to be minor.
Marists with parents and family members are reporting damage to property, but all are well.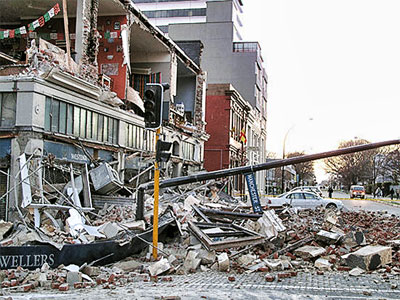 The earthquake seems to have  hit central Christchurch particularly hard, and extensive damage has been inflicted on heritage buildings and those of brick construction.
Central Christchurch is now cordoned off and the Minister of Civil Defence is not ruling out evacuating many of its residents. A state of emergency has been declared throughout Christchurch and a 7pm – 7am curfew has been imposed tonight in the central city.
An early estimate of damage is NZ $2 billion. (US $1.5 billion.)
The Marist parish community in central Christchurch, Manchester Street is probably the luckiest Marist community to escape with what seems only minor damage. The 105 year old brick building has not been earthquake strengthened.
Parish Priest, Carl Telford said of the earthquake. "It felt like the presbytery was going to break in half". He is surprised that it's only showing a few cracks.
The only damage to the Church seems to have been that the Baptismal font fell over. "None-the-less, things will still need to be assessed", he said.
It's not the same elsewhere in Christchurch, unverified reports are coming in from reliable sources, reporting the Sumner Church has been destroyed, the Sanctuary has collapsed in the Dallington Church, and the Cathedral of the Blessed Sacrament in central Christchurch is closed until its been assessed.
News from other Christchurch Marist communities
Hoon Hay is reporting some potentially significant damage to the school, lighting damage and a statue of Christ which did a 180 degree turn.
Akaroa say books and bookshelves were strewn over the floor, the Akaroa Church seems ok, but there are reports that the Church at Little River, one of the outlying Mass Centres, may be significantly damaged.
Armstrong Village are all ok.
Our thoughts and prayers are with the Marists and people of Christchurch.
Further news coverage