Brian Cummings, the New Zealand Provincial of the Society of Mary has reported that all Marists in Christchurch, and as far as he has been able to ascertain all families of Marists Christchurch are physically safe, although some families have suffered serious damage to their homes. He asks for continued prayers for all in Christchurch.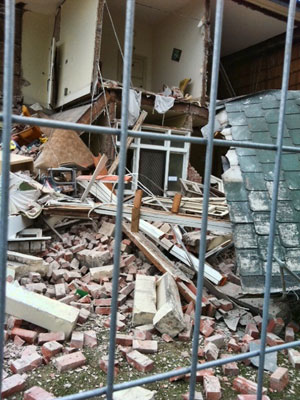 At this stage the major damage to buildings occupied by Marists is limited to the presbytery at St Mary's Manchester Street.
The September earthquake raised doubts about the presbytery and people were not permitted to live nor work from there. The cautious approach paid off.
Mrs Joan Adams, the parish secretary was momentarily in her office at the time of the earthquake. There to collect some items to allow her to continue to work from her home, she was fortunate to escape with only bruising.
The Parish Priest of St Mary's, Bernard Carney has described the parish house as "a complete wreck".
St Bede's College has some damage, but less than it experienced in the September earthquake.
Many Church buildings have been irreparably damaged by the earthquake, most noticeably the Anglican Cathedral in the Christchurch Square, where it has been reported there are 20+ died .
Already closed as a result of the September earthquake, the Catholic Cathedral cathedral too is severely damaged.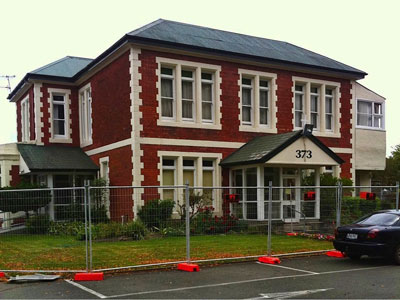 Messages of support have come from all around the world, Fiji, Ireland, the United States, Vanuatu, Australia, France, England, Canada, Israel, India and Bangkok. Individual Marists have reported getting similar messages from their Facebook Friends and Twitter Followers.
Brian Cummings is keeping the New Zealand province updated with regular emails. In his most recent message he expressed deep gratitude for the solidarity that's being expressed by Marists all around the world.
"… these emails are "being circulated throughout the Society …. Others around the world are following events on TV broadcasts and the Internet. Hence the wonderful solidarity we are experiencing through the messages we are receiving."
"We continue to remember all in Christchurch – living and dead – in prayer."
The Superior General of the Society of Mary, Fr John Hannan has also written.
"I have been watching the TV for the past hour. Bill English gave good information on the devastation and outcome. I am so sorry that your nation is afflicted in such a devastating way. Obviously there will be many casualties. I pray God's mercy on all. I am grateful no Marist has been hit. I am sure many of you are concerned about family members. Please be assured of my prayer – that the Lord will watch over all."
View more images of damaged and destroyed church buildings: http://marist.smugmug.com/Disasters/Christchurch/Christchurch-Earthquake/15954007_msbJu