Contrary to previous reports that the St Mary's Manchester Street presbytery was demolished, the Provincial Brian Cummings, visited the site yesterday and confirmed that presbytery was still standing! But only just.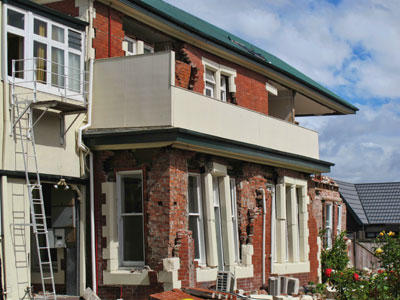 With the cordon around the Christchurch CBD having been relaxed, yesterday was the first opportunity for Brian to visit the former Marist presbytery.
Visibly shocked, the visit reinforced for the provincial how lucky the parish secretary, Mrs Joan Adams was to escape with her life and how fortunate the Marist community were to be living elsewhere.
Parish priest, Bernard Carney said "after the September quake there was hope to save the building after the September quake, but there's no show now".
As further after-shocks periodically hit the city, more and more of the building just keeps coming down.