Over the last twelve months 150 young people have been confirmed and baptised, the fruit of the LOGOS team's work.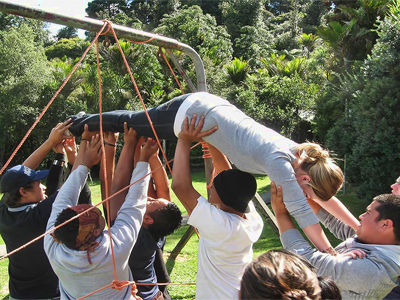 LOGOS, a Marist Fathers initiative for leadership development, mentoring and faith development amongst pools of "youth faith", runs Sacramental and social programmes in Catholic secondary Colleges in Auckland.
Some of the reasons students offered for participating in the school-based Sacramental programmes are
'No programs run for teens in parishes'
'I did not want to miss out'
'I felt it was time to catch up and taste God before I left college'
Each program is run over ten weeks and a way of concluding the preparation is an opportunity to celebrate Reconciliation and a practical session for the Sacrament of Confirmation.
"I have discovered a great sense of hope and joy among teens on their spiritual journey", said Kevin Murphy, a Marist priest at LOGOS.
"There is a genuine desire to answer these Faith questions that comes from a teenagers search for meaning in life".
Students come from a variety of colleges with a range of religious charisms. Among them, the Edmund Rice, Dominican, Marist Sisters and Marist Brothers are all well represented.
"There is no magic wand", Kevin said. "Just relevant programmes designed to meet the needs of young people, a hard working faith-filled LOGOS team, and our desire to share a passion and love for youth on their life journey."
Kevin believes the three P's seem to symbolize these successful programs in our schools: Passion, Prayer and Persistence.
The "approaching 60″ year old Fr Kevin says his ministry and involvement with young people on their spiritual journey deepens his faith and gives him great hope for the future of the Church."
A year or so back LOGOS posted a video of their ministry on YouTube.com