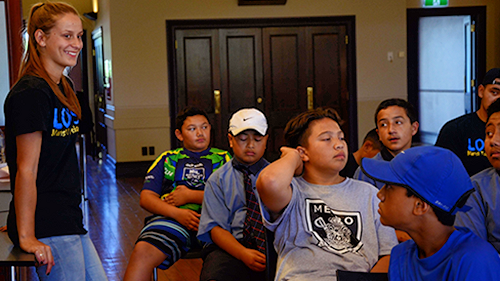 After only a few months of youth work at LOGOS, Magdalena Webb realises she doesn't have to be exactly like others.
Studying and also working part time at LOGOS, the Society of Mary youth development programme, she hopes to make a positive difference.
"I'm learning to embrace my differences and use them in a way to positively influence young people," she says in a profile feature on the LOGOS website.
Magdalena comes from land near the Whirinaki River in the "Hokianga Whakapau Karakia" (Hokianga Where the Prayer Became Exhausted).
Through family connections she is associated with the Catholic Worker Movement (CWM).
Not a CWM member herself; the Movement however plays a significant role in who she is and how she works as a junior youth worker.
Magdalena describes the philosophy of the Catholic Worker Movement living a simple lifestyle in community, serving the disadvantaged, and resisting war and social injustice."
Two years ago she decided to give her life to the service of young people and like the Whirinaki River she hopes to be a source of life and growth to others.