Denise Fugle has retired after 12 years as an accounts officer, working with the Society of Mary.
Interviewed by the then provincial bursar, Fr Des Darby and current chairman of the province's Finance Committee, Mr Michael Gaffenay, Denise was appointed to her role by the then provincial, Fr Craig Larkin.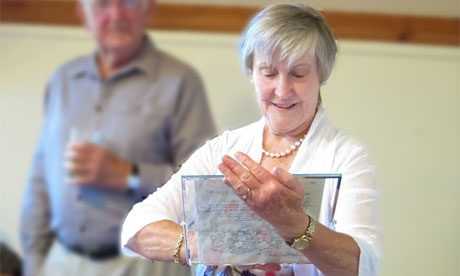 Denise's appointment came at a time when the Society of Mary was very different to what it is now, and her primary task was ready the Society's accounts for external auditing.
It was a task she undertook attending to every minute detail, and it is thanks to her and the finance team over he years that the Society's accounts have received an unqualified audit ever since.
In his farewell speech, National Business Manager, John Holden said that "while Denise might retire from full time work, she certainly won't be retiring from life."
As well as re-developing her home recently Denise has wide interests in the community which include singing with the Rudolph singers and the Holy Family Miramar Parish choir.
She also hopes to travel, either later this year to the Olympics, or perhaps a cruse.
John Holden is quite confident that shortly Denise will be saying, "the trouble with retirement is you never get a day off."
In farewelling Denise and wishing her well, from one accountant to another, John Holden reminded Denise that "Accountants never really retire, you might say that they just lose their balances."