Michael Gaffaney, chairman of the Society of Mary New Zealand finance committee stepped down on Wednesday 27 February after many years of service to the Society.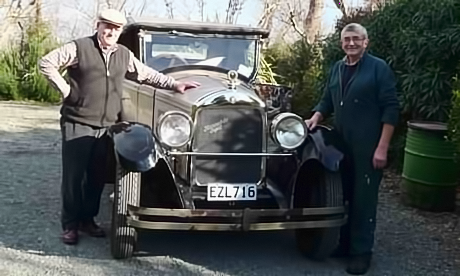 "While I'm not as old as the pope, I never the less think it's time for me to also have a rest," Mr Gaffaney said in his farewell speech to the Committee.
Mr Gaffaney has many and varied interests, among them include wood-turning, gardening, a particular interest in growing fruit, and vintage cars.
He told the Committee that retiring from work and moving out of Wellington meant he found it increasingly difficult to juggle his competing interests.
Since joining the Society, Mr Gaffaney has assisted three provincials and four provincial bursars, and during that time has taken a particular interest in recommending the Society's financial direction developing appropriate financial policies, including an ethical investment policy.
It is during Mr Gaffaney's time with the Finance Committee the Society introduced annual audits, putting it in a good position to meet its charitable obligations.
"It is without doubt that Michael leaves the Society is in better shape today to support its contribution to society, its mission, and to financially support those who have borne the heat of the day," Fr John Murphy, the provincial bursar of the Society said in his farewell speech to Mr Gaffaney.
Fr  Murphy said that as well as a 'financial sage' Michael showed us the right touch between Marist, Catholic, Church, charity and money.
"It's not always easy to get this balance right," he said.
"One thing I particularly liked about Michael's chairmanship is he understood that just about every decision the Society makes involves money, but he also knew that all our decisions are not just about money," said Fr Murphy.
"Always wise and with a helpful and considered perspective, he however knew when Marists needed to sort some things out for ourselves," he said.
Fr Murphy concluded by thanking Mr Gaffaney, for his humour, the ease in which he mixed with members of the Society, his generosity, but most particularly for his chairmanship and guidance of the Society's financial resources through periods of growth and tough financial times.
The new Chairman of the Society of Mary's Finance Committee is Mr Mike Curtis a partner at Curtis McLean. Mike has been on the Board of Trustees and the Board of Proprietors at St Patrick's College, Wellington.