After more than six decades the Marist Fathers Australian province has closed the door on its Japanese mission, leaving the mission at Nara stronger and more able to sustain its activities.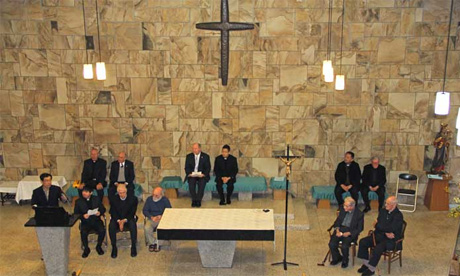 Last week thousands of Japanese joined Australian Provincial, Fr Paul Cooney SM, the Bishop Paul Yoshinao Otsuka of Kyoto and the five remaining Marist missionaries at a farewell Mass and formal ceremony at the Catholic Church in Japan's ancient city of Nara.
"The warmth and love at the occasion were palpable and many tears were shed," Cooney said from Japan.
Cooney gave thanks for the commitment and service of the Marists in Japan, and recalled that when the Mission was first founded there was only one small church in the Nara Prefecture and just a handful of Christians.
In contrast, as the Marists leave, Nara today has a Christian community of more than 4000 eight additional churches, five kindergartens, a day nursery, two aged care homes, plus a toy library for handicapped children and a club for the parents of disabled children.
The mission began following the Second World War when former prisoner of war and army chaplain Lionel Marsden went home to Australia to recover from the physical and emotional scars of being a prisoner of war only to return to the country which was once the enemy.
The work has been supported by the Australian province ever since.
Sources