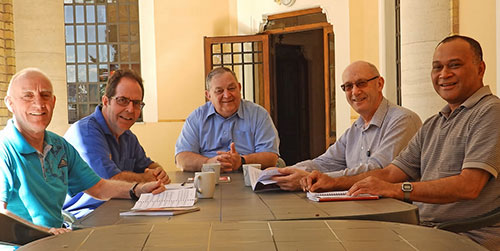 Marist Fathers Australia Provincial, Fr Bob Barber has written to the Australian province confirming a good majority of the province could not see the rationale nor benefits of merging with the Marist Mission District of Asia.
Writing in the Provincial Circular of Australia, April edition, Fr Barber confirmed Australia's decision not to reconfigure and thanked Australian Marists who participated in the process.
From Rome, Marist Fathers' Superior General, Fr John Hannan, reacted positively to the solid commitment within all the units of Marist Asia Pacific (MAP) for greater collaboration.
Fr Hannan is adamant that MAP, as a group, must agree to adopt at least one concrete project that all of MAP are all involved in.
Fr Barber also acknowledged existing efforts but said the level of co-operation across MAP needed to increase.
"The key that allows this to happen will involve a radical change for some of us in the way we see and do things.
"Any 'us – them' element that we have in our current outlook will have to give way to seeing ourselves more and more as 'one'", he wrote in the Provincial Circular.
Telling Australian Marists that 'mission' must always be front and centre of who the province is and what it does, Fr Barber said the Society needed to work together more and support each other in mission.
Without wanting to downplay the province's demographics, the smaller pool of available Marists and the need to care for aging Marists, Fr Barber said it is a false assertion to say that the Australian province's main obligation today is to look after elderly confreres.