The second Society of Mary retreat for the Fiji Region and for the Region of the Province of Oceania for 2012 was held at Naisavere, Tutu, on the island of Taveuni, beginning on the evening of Saturday 11 August and finishing on the evening of Friday 17 August.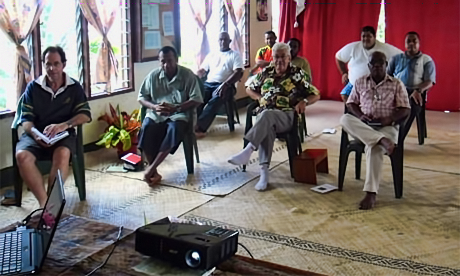 The retreat master was New Zealand Marist, Fr Kevin Head.
The retreat was on the Society's Constitutions, in honour of the 25th anniversary of the approval of the Society's current Constitutions and was conducted in complete silence.
Marists were called to prayer each morning at 6am with the sounding of the Angelus, however the retreat-proper began at 8.30 in the morning and finished with Benediction at 9 p.m. each day.
The programme included two conferences, Eucharist and Prayer of the Church each day.
Reflecting on the experience Kevin said "the hospitality of the Tutu community of workers and supporters was outstanding — wonderful meals, palpable peace and quiet".
The property at Tutu, some 1200 acres in area, has been owned by the Society of Mary since 1902 and is the site of the Tutu Rural Training Centre, established by the Society of Mary in 1969.
The Centre aims 'to provide a place and presence in which the people of Cakaudrove are empowered to become more autonomous and take charge of their lives in a rapidly changing world'.