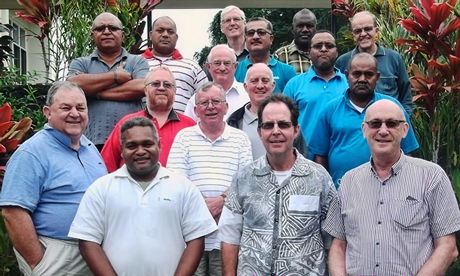 The Marist provincials and vicar provincials of Australia, New Zealand and Oceania, along with the district superior of Asia, (MAP), and Vicar General of the Society of Mary, Fr Larry Duffy SM met recently for two days in Suva, Fiji.
The meeting was again considered very successful.
Among the key outcomes of the meeting are
all MAP units are reportedly well on their way to identifying their prioritised ministries
small but encouraging signs for vocations in New Zealand and Australia
the changing landscape of Marist recruitment in Oceania and the Philippines
consideration of MAP regions to be more actively involved in migrant and refugee issues
further consideration of how the reconfigured provinces of New Zealand and Australia might look
a discussion on how the reconfigured framework would look if Asia were included in the reconfiguration.
Among the decisions taken was agreement on a combined MAP Skype conference in September to follow up on the issues of reconfiguration and restructuring.
Photo: Marist Oceania