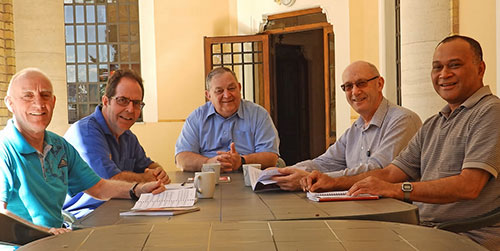 The consultative annual review meeting of Marist provincials, district superiors and the Marist General Administration began in Rome this week.
The meeting runs from 19 – 29 September.
New Zealand provincial, David Kennerley says the meeting is working hard and continues to consider how best to co-operate internationally.
Earlier in the week, superior general Fr John Hannan reported on the state of the Society initiating an action plan for the coming year.
On day two, bursar general, Paul Martin presented the meeting with a report of the Society's finances and chairman of the Finance Review Implementation Committee, John Harhager presented a second actuarial report; replacing the initial 2012 one.
After hours, the Marist Asia Pacific major superiors took the opportunity to meet and discuss issues relating to the South Pacific and Asia.
Image: Marist Oceania