Billed as the Pop Star priest, Chris Skinner, Saturday, helped warm up the crowd at the annual Mission Concert at the Mission Estate, Hawkes Bay.
Fr Skinner was one of the lead in acts for female composer and singing sensation Carole King and the Bee Gee's legend, Barry Gibb.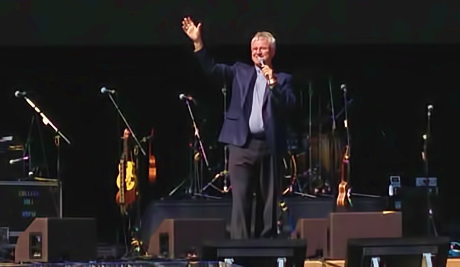 Chris told the crowd, that living last year on the adjacent hill at the International Marist Novitiate, he heard Rod Stewart and wondered what it would be like to sing at the Mission Concert.
"I lived here for five years, training for priesthood and one year on the hill 'over there', and I never imagined I'd be standing here singing", he told an enthusiastic and swelling crowd of around 5,000.
Chris will shortly release a joint album, with a Christchurch based singer, Janice Bateman.
The album is called "Reason to Believe".
Executive Producer, Brian Martin told CathNews some of the tracks are well known but there is also some original works as well.
"It has some truly beautiful music with underlying messages that I think all listeners will identify with and relate to, whatever their circumstances," he said.
"The real messages in life are not announced to you, they are discerned", Martin said.
Martin is clear in his view that instant responses to music are the stuff of rock music and that real life messages require subtlety.
"It's about engaging with people when they don't want to listen to a sermon, and Chris does this so well with his music", he said.
Martin says 'Reason to Believe", to be released shortly, is worth waiting for.
"'Reason to Believe' brings out so many layers, so many 'reasons' to believe, Martin said.
"Belief in each other, God, love, life, pleasantness, a positive attitude" are just a few he said.
"With Janice and Chris' album, 'Reason to Believe' People can take their own layer", said Martin.
As well as listening to Chris Skinner and the Wellington International Ukulele Orchestra, a well behaved crowd of 20,000 enjoyed the hits of Barry Gibb and Carole King.
Mission Concert organiser, Gary Craft said preliminary preparations are already under way for the 2014 Concert.
Source: CathNews NZ