Several Marist missions in Fiji were severely affected by Cyclone Winston, according to a report by Fr Pio Fong Waqavotuwale, SM.
At the Tutu Rural Training Centre in Taveuni, 22 buildings were either completely or partially destroyed.
These were staff houses, dormitories, workshops, hall and kitchens.
Tens of thousands of kava and dalo plants, many belonging to student farmers, have been damaged.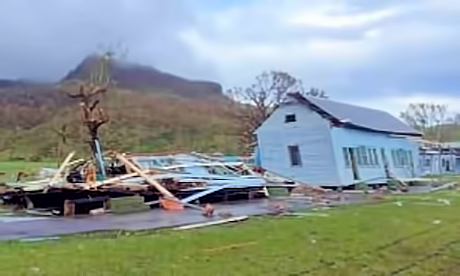 The urgent needs in Tutu are for building materials, with an estimate cost of $125,000, as well as food for 25 families and 72 course participants.
St John's College in Cawaci, Ovalau,  sustained extensive damage to school buildings, girls' dormitories, teachers' and staff quarters, the church, convent and presbytery.
The ablutions block for these dormitories was blown down.
The church has half of its roof ripped off, including the roofs of the two steeples.
The presbytery also has half of its roof blown away and its balcony upstairs wrecked.
The convent by the girls' dormitories has its roof completely ripped off as well.
The only buildings that were intact, with minor damage, were six dormitories for the boys.
Principal Fr 'Ekuasi Manu said the rebuilding of the school will be administered by Fiji's Ministry of Education.
The heritage group has been to assess the damage to the church and so the urgent need now is the repair of the presbytery and the convent, for which the ministry will not take responsibility.
Loreto primary school in Sacred Heart parish, Levuka, has been completely destroyed.
Cyclone Winston resulted in some 42 deaths in Fiji, and has seen widespread devastation.
Source: CathNews NZ Pacific