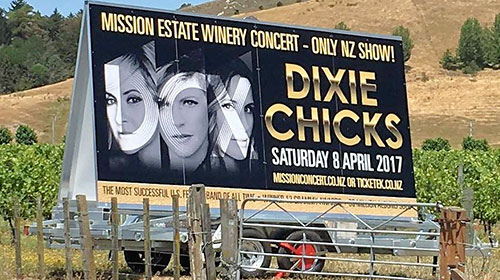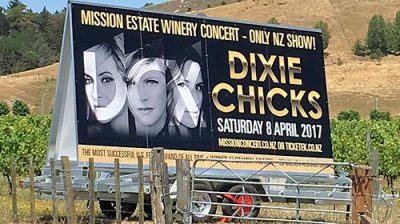 In the early hours of Wednesday morning thieves broke into the Mission Estate vineyard and stole the Titan car transporter trailer.
The trailer featured a billboard promoting the Dixie Chicks.
Not wanting to appear too obvious, the thieves later unbolted the billboard and made off with the trailer.
Mission Estate asks people to keep an eye out for the transporter trailer and if you see it please contact the Mission Estate at: info@missionestate.co.nz
Titan Car Transporter Trailer registration: 5U396
With over 30 million albums sold and winners of 13 Grammy Awards, the Dixie Chicks are the most successful US female band of all time.
The first time ever in New Zealand, the Dixie Chicks perform at the Mission Estate on Saturday 8 April.
Proceeds from the Mission Concert go towards supporting the religious and charitable works of the Society of Mary in New Zealand.