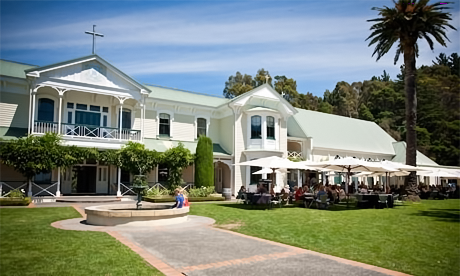 Hawkes Bay has been listed by Wine Enthusiast among ten of the top wine destinations in the world and Mission Estate named among the top places to taste.
Listed as the number three wine destination in the world, 'The Bay' is the only New Zealand wine region mentioned by the publication.
The region is also praised for the range and variety of restaurants and scenic spots.
"This bucolic region excels at classic Bordeaux varieties, while syrah is angling to become the areas's flagship wine. Beyond the bottle, however, the landscape, food and people are, as the country's marketing slogan campaign says, 100 per cent pure New Zealand," wrote Lauren Mowery.
As well as Mission Estate, the publication mentioned Craggy Range, Elephant Hill, Te Mata Estate and Clearview as wineries to visit.
Wine Enthusiast is a New York publication describing itself as "a prominent multichannel marketer of a growing line of products that satisfy, inform, enrich, entertain and inspire".
A 30 year old business, Wine Enthusiast company claims to be the number one source for information, education, events and travel.
Mission Estate is New Zealand's oldest established winery. Established by the French Marist Fathers and Brothers in 1851 it grew grapes for sacramental purposes, but also for table wine.
Today, surpluses from the sale of Mission Wine are spent in New Zealand and contribute to the charitable works and purpose of the Society of Mary in New Zealand.
Source: Wine Enthusiast