The people have spoken, and according Hawkes Bay diners, the place to eat either beef or lamb is Mission Estate restaurant.
"We're rapt to get the news," executive chef Daniel Lorch said.
"It is an award which is all about people focus and for us, it is excellent feedback."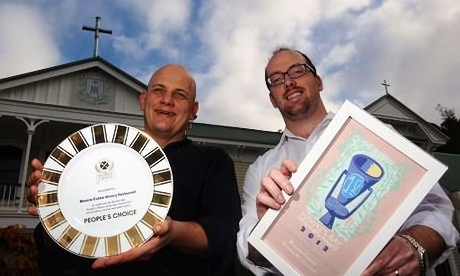 The awards are staged annually by Beef and Lamb New Zealand and this year, throughout the 11 regions, about 4000 votes were cast to find the restaurants which were tops according to diners.
Mission Restaurant manager Daniel Jaritz directed his praise to the restaurant staff.
"The fact we won is a fantastic endorsement of the restaurant team and our executive chef," he said.
Local growers and suppliers too also share in this award, Mr Jaritz said.
"We are very lucky, here in Hawke's Bay, because I believe we have the best produce in the country."
Beef and Lamb New Zealand chief executive Rod Slater said, "Having this competition provides another check that these restaurants are at the top of their game when it comes to beef and lamb cuisine, and this result was better than even we expected. It shows the food-service industry is truly delivering to both domestic and international diners with its beef and lamb cuisine offering."
Source: Hawkes Bay Today
Note: Proceeds from the sale of wine and food at the Mission, help support the Society of Mary's community outreach in New Zealand.