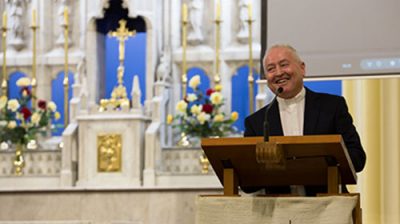 "We've saved the Church" was the jubilant reaction of Parish Priest, Barry Scannell SM, at the blessing and re-opening of St Mary of the Angels on Wednesday night.
Fr Scannell was speaking in the central Wellington church, to invited guests who had helped fund the seismic strengthening of the Category 1 heritage building.
"One of the saddest aspects for me was not being able to hold weddings, baptisms, funerals for parishioners whose families had been coming to the church for generations.
"I'll never forget having to ring 25 brides to tell them they could no longer host their wedding in the church."
"Then there was the 'small' matter of where to get $9.5m", Fr Scannell told the donors.
"You are some of the over 800 individuals who have made donations. I have written to all of you and today I want to once again thank you," he said.
Same but different
Closed following the 2013 Seddon 6.5 earthquake, visitors could be forgiven for asking where the $9.5 million was spent; it all looks the same.
However, those involved in the project are proud St Mary of the Angels looks like it was, but they know it is very different; it is much stronger.
"If I knew an earthquake was going to strike tomorrow I would bring my whole family here to this building because I know how safe it is", said Nic Tupilatea a worker on the site.
No disagreement from Fr Scannell.
"People are looking for safe places to worship, and St Mary's is certainly that."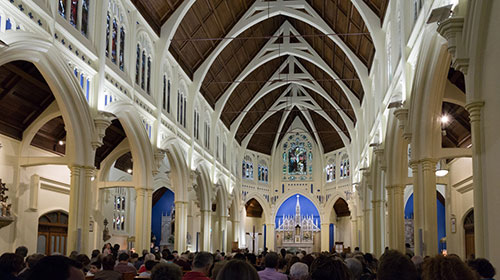 Close to 100% of the New Building Standard
Prior to its strengthening, engineering consultants assessed the Church to meet only 15 to 20 per cent of the New Building Standards.
The Church is now close to 100% of the New Building Standard.
Brian McGuiness, managing director of construction company LT McGuinness, described the strengthening as a "challenging but epic journey".
His employees disassembled large parts of the church and rebuilt them using techniques that were not even dreamt of when it was originally designed by Frederick de Jersey Clere.
"I hope he would approve", he said.
Describing St Mary's as a "gem", he praised Fr Scannell for his unwavering commitment under trying conditions.
"It was a tough decision for him to close the church and a challenge to raise funds and keep the church together.
"We owe him a great deal of thanks".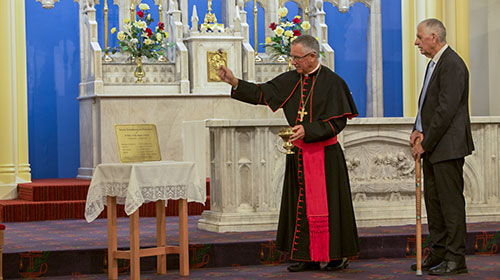 Cardinal John Dew agreed with Mr McGuinness' comments.
Speaking at the re-opening and blessing Cardinal Dew said it was Fr Barry's energy and drive that got St Mary's to where it is today.
"No-one else had the determination, vision, courage and cheek to enable this to happen", he said, smiling.
Popular civic venue and church
Built with a mix of church and civic money, it was "standing room only" all weekend as crowds flocked to church services on Holy Thursday, Good Friday and again on Easter Sunday.
However the building will be used for other purposes too.
In the past the church's world-class acoustics made it a popular venue for Wellington's vibrant arts sector and re-opened, St Mary of the Angels is already booked as a venue for the 2018 New Zealand Festival of the Arts.
A large green space in the middle of the city, the St Mary's lawn is also a particularly popular lunch venue.
St Mary of the Angels was blessed and re-opened by Cardinal Dew in the presence of the Apostolic Nuncio, Archbishop Martin Krebs, the Mayor of Wellington, Mr Justin Lester and Lambton Ward Councillor, Nicola Young, who has been a strong supporter of the project.
Project patrons, Sir David Carruthers, Jim Bolger, Dame Beverley Wakem along with around 250 donors attended the opening.
Around $1m still needs to be raised to restore the garden, reinstate the crypt, choir room, and replace the carpets.
Re-opening and Easter services in picture