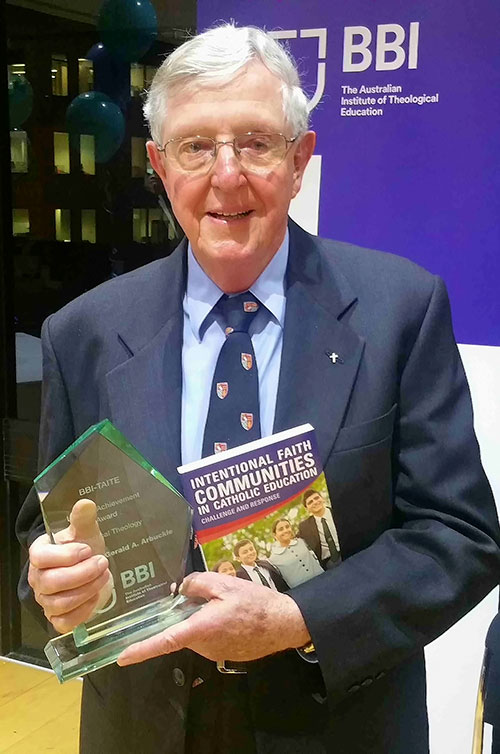 Fr Gerald Arbuckle, May 4, received a "Lifetime Achievement Award in Practical Theology".
The award, presented by the Broken Bay Institute, Sydney, Australia acknowledges Fr Arbuckle's application of the Gospel to contemporary local and global cultures.
Professor Neil Ormerod, Professor of Theology and an international author, presented Fr Arbuckle his award, noting the award in Practical Theology is the first such award in Australia.
Professor Ormerod said the award was given because Fr Arbuckle:
is internationally recognised for his professional and high quality writing and lecturing both nationally and internationally
has made an extensive contribution  to Practical Theology in many fields, e.g. healthcare, education, and
has written over twenty books on Practical Theology for local and international readers.
The award presentation coincided with the launch of Fr Arbuckle's latest book: "Intentional Faith Communities in Catholic Education: Challenge and Response."
Speaking at the book's launch Mr Ross Tarlinton, Headmaster of St Joseph's College, Hunter's Hill, Sydney expressed gratitude for the clarity and relevance of the book and its insistence on the complex cultural issues impacting Catholic schools.
He emphasised the urgency to have principals of faith.
In reply, Fr Arbuckle was delighted to receive the award.
He explained the role of cultural anthropologists as helping to ground the Gospel and theologians in the complex cultural realities that are deeply, if not unconsciously influencing our lives on a daily basis.
By way of example, Fr Arbuckle said it is only possible to respond to current issues such as fake news and fundamentalism in all its forms if the Church appropriately grasps the cultural causes of these movements.
Quick-fix simplistic solutions are not the answer he warned.
"So rapid is change in the world, and even in the church, that people fear their cultural and personal identities are under threat. They look for quick-fix simplistic solutions", he said.
In a world overheating in change, Fr Arbuckle said he has learnt three key lessons
cultures are silent languages that influence us without our becoming aware of this
cultures of institutions, like schools and hospitals can rapidly lose their original fervour
to be revitalised, cultures need to re-own their founding story and apply it to contemporary needs.
"We need to be culturally self-critical", he emphasised.
Citing the Catholic school he said that if Catholic schools are not vigilant, their cultures can still outwardly bear Catholic symbols but mindlessly drift into essentially secular institutions.
Fr Arbuckle said it is vital for Catholic schools and all Catholic institutions to refound their cultures on Jesus Christ and his teachings.