Being the wild card has proved to be a winner for a local reggae band, who as well as playing together.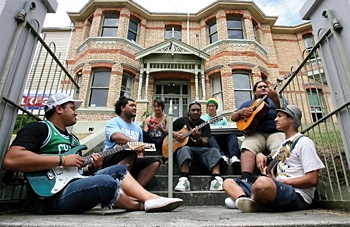 Eight-piece group Unknown Peace, many of whom work together too, at the Logos-Young and Catholic youth centre in Newton, beat the odds to come out on top at the traditionally rock-dominated Battle of the Bands national finals recently.
"We were the underdogs," says drummer Lomz Brown.
"There were some pretty fierce bands that played that night," says vocalist and band manager Sam Mano.
The group's first place prize includes band gear and the chance to record a single and hit the road for a national tour this year.
After making it through three rounds of competition, the group faced yet another challenge on the night of the final at the Kings Arms Tavern when they drew the card to play last.
But even the 2am time slot didn't dampen the spirit of their family and friends who stayed on to support them.
The band put their success down to their fun performance style.
"There's performers and there's entertainers," says trumpet and keyboard player Panama Teli. "We're entertainers."
"We really love to get the crowd going and portray the message of our songs," says Sam.
Although they're new as a band, the members have a long history.
"We've all been friends for a long time," says drummer and vocalist Sione Mohenoa.
After they formed temporarily for the KFC – Sounds from Your Hometown competition in May 2008 the band say they were all so "hyped" they carried on.
To win the prestigious national competition after being together for only a year is "massive", says Sam.
"It's pretty extreme because this time last year none of us expected we'd be gearing up for a national tour."
Hailing from all over central and south Auckland, the band say they are like family.
Their love for working with youth shows through in their songs.
"A lot of us had experience and passion for helping youth and young people," says Lomz.
"Our music's really positive and people can really enjoy it."
Sam says the message of peace is what the band is all about.
"It's really easy to write music about sex, love and relationships," he says.
"Our challenge is to write music that inspires and encourages young people, that's uplifting."
Source: Harbour News