The Marist Novitiate in Mexico is drawing to a close and three new Marists will be professed on 31 July. Peter McAfee, the novice master is asking for prayers for these three young men as they begin to make their final preparations for their first profession.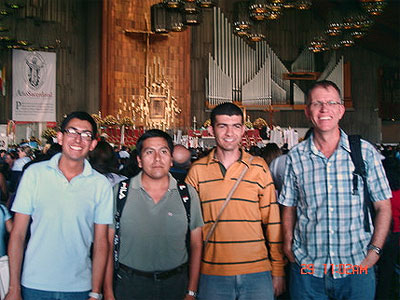 Before entering, David studied refrigeration and air conditioning, Walter operated a cyber cafe in central Ayacucho – a beautiful colonial city in the mountains of Peru, and Luiz did his military training in the Brazil army for a couple of years.
The novitiate year has been punctuated by a 30 day retreat in January and 3 other shorter retreats of 6 days each.
The Novices also took part in a 11 day pilgrimage to key Marist spots in Mexico ending at Guadalupe, where they numbered among the 20 million annual visitors at the Basilica of Our Lady of Guadalupe shrine.
In terms of pastoral outreach, there are several villages within walking distance of the novitiate, and each novice has got involved in a different community, and does youth work there.
At the end of the Novitiate, and after a small break, Peter McAfee will be joining Marist formation team in Brazil.