The Superior General of the Society of Mary, Fr John Hannan SM, marked the inauguration of the Colin Year on On Thursday, 15 November, by lighting a lamp before the icon of the founder of the Society of Mary, Fr Jean Claude Colin, in the General House chapel.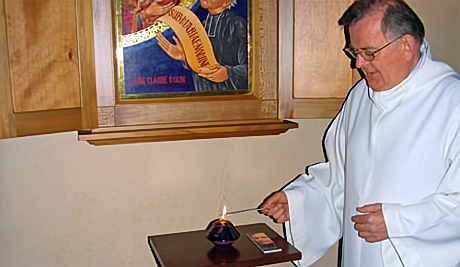 November 15, is the anniversary of the death of Fr Colin.
The light will remain burning throughout the year—a reminder and expression of the reflections and prayers of confreres throughout the world.
Also marking the occasion, Fr Hannan launched a website www.jeanclaudecolin.org, exclusively dedicated to Fr Colin.
In a media statement Fr Hannan says has high hopes for the website.
'I have great expectations that much fruit will come from this new means of drawing attention to the person of Fr Jean Claude-Colin so that his spiritual teaching will be better understood and lived, and that he will become an intercessor for many people."
Fr Hannan encourages Marists and those interested to keep returning to the website and to use the website as a source of prayer and reflection.
As well as providing information about Fr Colin, the site promises to deliver weekly reflections throughout the year.