The Vatican's "Devil's Advocate" said recently, the four objections preventing the introduction of "saintly-cause" of Fr Jean-Claude Colin, founder of the Marist Fathers', were not insurmountable. So indicated Fr Justin Taylor to a recent meeting of Wellington Marists.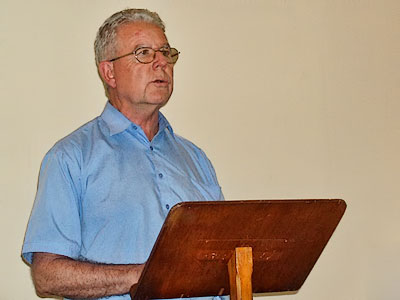 Justin explained that although Fr Colin's cause had already been put forward, as thirty years had elapsed, Vatican rules meant that the cause had to be re-introduced again.
It is intended to once again re-open Fr Colin's cause forward for Beatification.
Home in New Zealand from working at the L'Ecole Biblique in Jerusalem, later this year Justin will take up a new appointment in Rome where he will work on the definitive biography of  Fr Jean Claude Colin.
Fr Taylor hoped that the biography by Fr Donal Kerr which covered the years until the end of Fr Colin's Generalate would be sufficient for the first part of Fr Colin's definitive biography, and that his own work would emphasise the second part of Fr Colin's life.
He paid tribute to the excellent work of Frs Jean Coste and Gaston Lessard. Fr Coste had originally trained as a scripture scholar with particular reference to textual criticism, skills which he brought to bear in his research on Fr Colin.
At pains to point out that though his appointment was to prepare material for the biography project that did not necessarily mean that he would write it.