A wall painting of St Peter Chanel is not the only sign that Kiwis have been in Venezuela.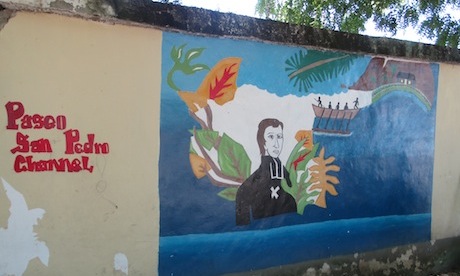 Fr Tony O'Connor, a New Zealand Marist priest, will soon be leaving Flor Amarillo, Valencia, Venezuela.
His departure will bring to an end 46 years of Marist work in the area.
As well as Fr O'Connor, two other New Zealand Marists, Fr Pat Brophy and Fr Peter McAfee have worked in Flor Amarillo.
In 1990 a census taken by young volunteers in the barrio found that there were many children who had no school to go to. And so Fathers Brophy and Angelo Omodei began a school.
Classes were taught in the sacristy, meeting hall and the Chapel of St Peter Chanel, in Barrio Paso Real.
In 1993 Colegio Juan Claudio Colin was passed over to the movement "Fe y Alegria" leaving behind its informal status and gradually gaining official recognition.
In 1996 a plot of land was acquired in Barrio Bucaral 2, a neighbouring barrio situated some fifteen minutes walk from the original site, with the condition that it be built on within two years .
Over the last five years Fr O'Connor has managed the completion of the school and as a final task he is overseeing the building of a new Chapel next door to the college.
Financial help for the project was received from friends and supporters in Italy, New Zealand and in many other countries.
Source: CathNews