Juan Claudio Colin College in Bucaral, Carabobo, Venezuela, this week celebrated twenty years of its foundation.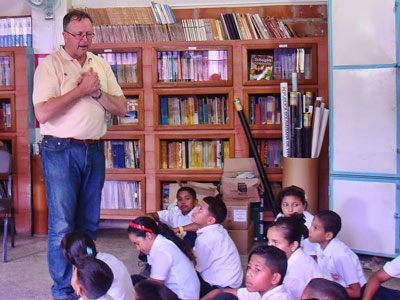 During the week the College's pioneers were invited to tell the students about the beginnings of the college. New Zealand Marist, and College founder, Pat Brophy addressed each year level. Pat said, "The students proved to be very curious about how their modern college grew out of a humble rancho school operating out of the back of a chapel."
A feature of the celebrations was celebration of a Mass of Thanksgiving for each year level, celebrated the current Marist Rector, Tony O'Connor. "A chapel for the whole school is still a work in progress", Tony said.
The organisers were very pleased that several former teachers and past-pupils took the opportunity to re-visit the College.
The presence of the school in such a neighbourhood means children get a good eduction, with the college quietly proud of the large proportion of students at University. Many have already graduated from university and are pursuing professional careers. Others are supporting their families in stable employment.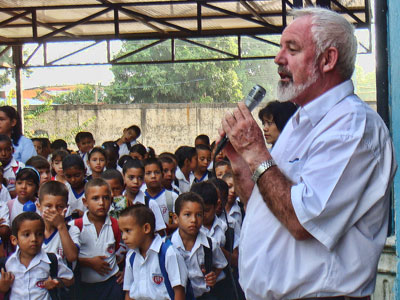 The barrios from which the college draws its students have become poorer, more chaotic and consequently more dangerous. Drug abuse and trafficking, lawlessness, violence and a sense of hopelessness are the daily challenges of the people living in the barrios.
During the anniversary week, two people, one a policeman, were killed in separate incidents by pistoleros.
College Rector, Tony O'Connor is in the middle of a large building programme to complete the college.
"Funding is always a struggle in this impoverished barrio", he said.
"Providence continues to provide through the great generosity of many people in New Zealand, Italy, Australia and other nations."
Jean-Claude College began when Pat Brophy, who was working in the barrio of Paso Real and discovered that many children were not attending school, and with the support of Italian Marist, Fr Angelo Omodei began the school named after Marist founder, Fr Jean Claude Colin.
The formal celebration will take place on the feast of Saint Peter Chanel next year.
Some images from the celebration
[nggallery id=4]